Learn The Little-Known Secrets of Building Muscle, Burning Fat, and Feeling Great … With Or Without The Gym and in 30 Minutes Per Day or Less!
How to Use Your Own Bodyweight, Kettlebells, And Dumbells to Get A Killer Workout Any Time, Any Place …
Click For A Preview
Dear Friend –
If you have an extra two or three hours a day to drive to the gym, wait in line for the treadmill, fight over equipment, and brave the commute back home …
If you've already got a flat stomach, low bodyfat, and plenty of lean muscle …
If your current routine leaves you 'smoked' after every single workout …
Then read no further! However, if you'd rather be prepared next time you can't make it to the gym, if you want an intense workout you can do anywhere, if you want to lose fat, build muscle, and look great, then keep reading – I've got a personal story to share that I think you'll be able to relate to.
I'm Forest Vance, a personal trainer and boot camp instructor based out of Sacramento, CA. I hold a Master's Degree in Human Movement, in addition to Personal Training Certifications through the American College of Sports Medicine and National Academy of Sports Medicine. I'm also a Russian Kettlebell Challenge Certified Instructor. My athletic achievements include playing football at the college level and a stint in the NFL. I've trained hundreds of clients in both one-on-one and group settings, and have a track record of getting people phenomenal results in short amounts of time.
Back in my football days, I was in top shape. After a great college career and a 'cup of coffee' in the NFL, it was time to move on. The transition was pretty smooth – except from a personal fitness standpoint. Long story short, I ended up at about 310 pounds:

It was this picture, in fact, that ultimately triggered my 'transformation' over the next six months. I started on an intense workout and diet plan, and lost 64 pounds over the next 6 months: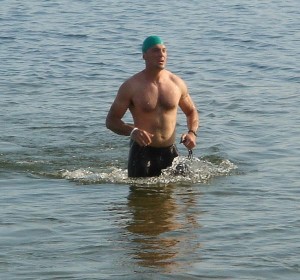 Now fast forward to the beginning of 2009 … I had more or less maintained the progress I had initially made, but work and life commitments continued to demand more and more of my time. Having worked as a personal trainer, fitness manager, and general manager of various health clubs, I decided to launch my own personal training and boot camp business. Things went even better than I expected … but kept me really, really busy. There just wasn't much time left for me to get my workouts in.
The sad truth was that my fitness level started to decline. Here I was, preaching the 'fitness lifestyle' to my clients, all the while slipping into worse and worse physical condition every day! I just had less and less time and energy to hit the gym. Some days I couldn't squeeze a workout into my schedule, and other days I just didn't seem to have the drive. Enter the No Gym? No Excuse! workout system …
The Indispensable Guide to Super Fitness … Without Expensive Gym Equipment, Lines For The Treadmill, or Inconvenient Commutes
I made up my mind that I had to do whatever it took to get myself back into shape. My main issues were that I couldn't always make it to the gym, and I wanted to get intense, fast, and effective workouts.
I'm not all about your typical 'at-home' workout solutions; to be honest, I can't stand stuff like follow-along workout videos and ab machines. I like tough, effective, no-nonsense workouts. Through my experience with others and myself, and the knowledge I've gained over the years, I decided to take my training system – one that uses a combination of bodyweight, kettlebells, and dumbells – and create an even more time effective, portable workout program.
By setting aside about 30 minutes a day for my workouts, I was able to get back into great physical condition. I know there are a lot of you out there who would love and could greatly benefit from a system like this – so I've decided to take this entire workout and diet program and put it together into a package for you to get the same results that I did.
Your own bodyweight, kettlebells, and dumbells turn out to be some of the most effective workout tools known to man for blasting stubborn bodyfat and gaining tons of lean muscle. Even better, these tools give you the freedom to get an incredible workout almost anywhere you are in a short amount of time.
This system has been developed from the experience and education I've amassed over the years and nearly endless trial and error. It's a culmination of what truly works – with myself and with many others who've had success with this system to prove it.
Check out what other people have to say about the No Gym? No Excuse! system – and the fantastic results they've gotten with it:
Mark Has Lost A Total of Over 60 Pounds And Has Drastically Improved His Strength and Endurance With Using The Same Training Systems Found In No Gym? No Excuse!




Melanie Lost 68 Pounds in Less Than 6 Months

"From late September 2008 to the middle of February 2009 I lost 68 pounds. I have had over 15 people not know it was me they were talking to recently. I think that says a lot. This has been the best thing for my health and happiness. I decided to stop the excuses and start caring. Let today be the day you care enough. Just do it!"

-Melanie A

Eddie and Denise Lost 62 Pounds of Fat and Gained 14 Pounds of Muscle in Less Than 4 Months!

"Prior to meeting Forest and using his training system, I did mostly your typical 'bodypart split' – type of workout – I devoted one day per week to work my chest, a day to work my legs, etc. In the past, I never had any real specific direction or plan for my workouts – I just sort of showed up. Not surprisingly, I never really got the results I was looking for.

These new workouts are like nothing I've ever experienced. I'm able to work my entire body in an amazingly short amount of time. I'm very happy with the progress that Denise and I have made so far."

– Eddie E

"I actually didn't see results on the scale as quickly as I expected to in the beginning, and in the past would've given up too easily. I knew how to eat healthy so I thought I was fine and I can be a bit hard headed sometimes … however, with Forest's suggestions, I was finally able to nail down my diet, and when I did, everything started coming together and I got the results I was looking for.

The thing I enjoy most about these workouts is the amount of variety involved. The exercises, amount of sets and reps, and weight I use are constantly changing so I never get bored. Also, the results I'm getting now are as good or better than when I was working out two hours a day, six days per week. These workouts never take longer than 45 minutes. Thanks Forest!"

-Denise E

Blake Lost 5% Bodyfat and Gained Almost 10 Pounds of Muscle in 6 Weeks

" … I wanted to learn new exercises, learn how to do them correctly, lose some body fat, and gain some strength in my core …… the most notable improvement was the body fat loss … I started at 21.5% and got down to 17% in just six weeks! Thanks for the experience!"

-Blake H

Brian Has Lost Weight, Increased Stamina, Gained Muscle, and Most Importantly Has Started To Feel Healthy Again!

"Within one month of participating in Forest's training program, I have lost weight, increased my stamina, lost body fat, added muscle tone, and started to feel healthy for the first time in over a year. The transformation to a healthier, fit lifestyle in such a short time frame has made me a strong advocate of Forest's training program. Thank you Forest!"

-Brian G
Go From Fat to Fit in Twelve Weeks … Without The Gym!
So here's the deal: For a twelve week personal training program with me – the length of both phases one and two that I've outlined in the book – you would normally pay $1,980.00. Add in the cost of a gym membership during that time frame and the total amounts to more than two grand. Even just twelve weeks of program design and a few training sessions would cost you over $300.
I know how much of a hassle it is to get to the gym. And I know you want a program that works, plain and simple. I know the position you're in – and I really do want to help! That's why I've put together the No Gym? No Excuse! system; even better, you can get it today at an incredible value.
Here's what you'll get with the No Gym? No Excuse! system – (and you now have two options!):
The No Gym? No Excuse! Manual
Details 12 weeks worth of workouts, detailed descriptions of each stretch, core strengthening move, bodyweight, dumbell, and kettlebell exercise, cardio programming, meal planning basics, answers to frequently asked questions, a bonus section on sports specific training with Scott Salwasser, MS, CSCS, and much, much more!
No Gym? No Excuse! 5 Minute Abs
No Gym? No Excuse! 5 Minute Abs – All of my client's favorite ab circuit workouts … detailed instructions on how to perform the five best, most effective ab exercises in existence … and five circuit workouts that'll smoke your abs and that can all be completed in five minutes or less.
Option 2 – No Gym? No Excuse! 'Deluxe' – Includes everything you get in the 'Basic' package, plus:
The No Gym? No Excuse! Companion Video
A companion video showing you exactly how to do the most important exercises in the book. It's almost like having me there with you as your personal trainer! I've also included three bonus workouts that aren't in the manual.
The No Gym? No Excuse! Bodyweight Training Manual
Outlines tons of awesome bodyweight-only workouts – a great compliment to the No Gym? No Excuse! system. You'll ideas for workouts when you're on the road or stuck anywhere without equipment.
No Gym? No Excuse! Advanced Programming Strategies
Even more workouts to use after completion of the No Gym? No Excuse! system.  This guide includes advanced workouts for fat loss, muscle gain, and enhancing athletic performance.
Here's is just a short list of the benefits you'll experience using the No Gym? No Excuse! system:
More lean muscle
Drastically lower body fat
Increased strength, endurance, and power for your sport
More energy and stamina for everyday tasks
Increased core strength and less lower pack pain
Increased flexibility
More energy
And, if you still have any reservations about the program, stick with me for just a second and I'll quickly address some frequently asked questions:
1. Everything you're saying so far, Forest, is fine and dandy, but I don't think I can get a real workout without the gym.
With just the few tools that I've talked about – a kettlebell and/ or a set of dumbells – you will have all the equipment you need to lose fat, gain muscle, and get in great physical condition. If you're skeptical, give the workouts a try risk-free! If they don't work for you, return the system within 60 days, no questions asked, for a full refund!
2. I already know how to do Push Ups and Sit Ups and stuff like that. Is that all this program really is?
This is an entire workout system – including twelve weeks of workouts, a meal plan, and more. The idea is that all the information you have to search around for and piece together is here in one place. You can stop wasting your time and devote your time and energy to a proven system that really works.
3. What about my diet? Does this system have a good meal plan to go with it?
Absolutely. A proper diet is extremely important for getting you to your fitness goals, whatever they are. We have a guide that teaches you proper eating principles and how to build a meal plan based around your specific situation and goals.
4. How long will it take before I start seeing results?
If you follow the program to a 'T', including the workouts and meal plan, you'll see significant changes in how you look and feel within the first two weeks. You'll be amazed at how fast you can make progress when you really focus in.
This is a no-risk offer. You have a full two months to try out the program and see if it works for you. If you're unsatisfied for any reason, you'll get a full refund – no questions asked!
The bottom line is that you could spend a few hundred hours of your time and effort hunting down the information found on this book and DVD and figuring out what works and what doesn't. Or, for less than the price of a single 45 minute training session, you can learn how to reach your goals once and for all.
Yes, I Want To Start Today With Fat Burning, Muscle Building Workouts I Can Do Anywhere
Click Here To Order No Gym? No Excuse! Basic for $17
Click Here To Order No Gym? No Excuse! Deluxe for $37
P.S. There's no risk at all for you to try the No Gym? No Excuse! system. Give the system a try – if it isn't all you thought it would be and more, return it for a full refund within 60 days, no questions asked.
P.S.S. If you've never missed a workout because of your busy schedule and you're already in peak physical shape, then don't worry – this product isn't for you. But if you want to learn the secrets of burning fat, building muscle, and getting a killer workout using your own bodyweight, kettlebells, and dumbells, order the No Gym? No Excuse! system today!
NOTE: No Gym? No Excuse! is a downloadable e-book and video system. No physical products will be shipped. After you order, you will get INSTANT ACCESS to download the e-book and all the bonus reports onto your computer. The e-book format is adobe acrobat PDF, which can be viewed on Mac or PC. The video is delivered in AVI format, which can also be viewed on your Mac or PC.