Dear friend –If you have an extra two or three hours a day to drive to the gym, wait in line for the treadmill, fight over equipment, and brave the commute back home …
If you've already got a flat stomach, low bodyfat, and plenty of lean muscle …
If your current routine leaves you smoked after every single workout …
Then read no further!
However, if you'd rather be prepared next time you can't make it to the gym, if you want an intense workout you can do anywhere, if you want to lose fat, build muscle, and look great, then keep reading – I've got a personal story to share that I think you'll be able to relate to.
I'm Forest Vance, a personal trainer and boot camp instructor based out of Sacramento, CA. I hold a Master's Degree in Human Movement, in addition to Personal Training Certifications through the American College of Sports Medicine and National Academy of Sports Medicine. I'm also a Russian Kettlebell Challenge Certified Instructor. My athletic achievements include playing football at the college level and a stint in the NFL. I've trained hundreds of clients in both one-on-one and group settings, and have a track record of getting people phenomenal results in short amounts of time.
Back in my football days, I was in top shape. After a great college career and a 'cup of coffee' in the NFL, it was time to move on. The transition was pretty smooth – except from a personal fitness standpoint. Long story short, I ended up at about 310 pounds:

It was this picture, in fact, that ultimately triggered my 'transformation' over the next six months. I started on an intense workout and diet plan, and lost 64 pounds over the next 6 months: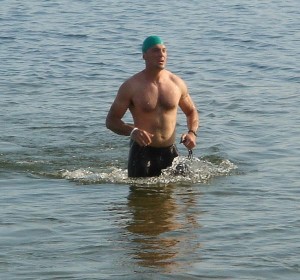 Now fast forward to the beginning of 2009 … I had more or less maintained the progress I had initially made, but work and life commitments continued to demand more and more of my time. Having worked as a personal trainer, fitness manager, and general manager of various health clubs, I decided to launch my own personal training and boot camp business. Things went even better than I expected … but kept me really, really busy. There just wasn't much time left for me to get my workouts in.
The sad truth was that my fitness level started to decline. Here I was, preaching the 'fitness lifestyle' to my clients, all the while slipping into worse and worse physical condition every day! I just had less and less time and energy to hit the gym. Some days I couldn't squeeze a workout into my schedule, and other days I just didn't seem to have the drive. Enter the No Gym? No Excuse! workout system …
The Indispensable Guide to Super Fitness … Without Expensive Gym Equipment, Lines For The Treadmill, or Inconvenient Commutes
I made up my mind that I had to do whatever it took to get myself back into shape. My main issues were that I couldn't always make it to the gym, and I wanted to get intense, fast, and effective workouts.
I'm not all about your typical 'at-home' workout solutions; to be honest, I can't stand stuff like follow-along workout videos and ab machines. I like tough, effective, no-nonsense workouts. Through my experience with others and myself, and the knowledge I've gained over the years, I decided to take my training system – one that uses a combination of bodyweight, kettlebells, and dumbells – and create an even more time effective, portable workout program.
By setting aside about 30 minutes a day for my workouts, I was able to get back into great physical condition. I know there are a lot of you out there who would love and could greatly benefit from a system like this – so I've decided to take this entire workout and diet program and put it together into a package for you to get the same results that I did.
Your own bodyweight, kettlebells, and dumbells turn out to be some of the most effective workout tools known to man for blasting stubborn bodyfat and gaining tons of lean muscle.
Even better, these tools give you the freedom to get an incredible workout almost anywhere you are in a short amount of time.
This system has been developed from the experience and education I've amassed over the years and nearly endless trial and error. It's a culmination of what truly works – with myself and with many others who've had success with this system to prove it.
Now introducing …
No Gym? No Excuse!
Build Peak Fitness Anywhere
Discover inside:
WHY we train, and how you can get the VERY most out of your workouts
Why RECOVERY is so key to consistent progress
How to make sure you NEVER hit a training plateau again
What "functional" training is, and why YOU should be doing it
The five essential components of a training program
Two exercises you can use to test your OWN flexibility and core strength, quickly and easily
Flexibility and mobility basics
My top four core exercises to get a shredded six pack
How to use jump training for explosive power and superhuman conditioning
The "big six" strength moves that everyone needs to learn
A two-phase, twelve week program to build a strong, flexible, and conditioned fitness base … and to take your strength and conditioning to the next level!
How to get optimum results in minimum time with your cardio programming
A full rapid fat loss meal plan to cover ALL your fitness bases and help you reach your ultimate training goals
And much, much more!
As you can see, I've pulled out all the stops on this guide. And …
By now, you're probably wondering – "what's the catch? How much is this all going to cost?"
After all – if I were to work with you personally for 12 weeks to help you reach your goals, it would cost well over $1000.
But I'm not going to charge that much. No – I want this information to be available to EVERYONE, and have it almost be like I'm working with you the entire 12 weeks, as your coach, to help you reach your goals … but at a FRACTION of the cost …
See what a few of my satisfied customers have to say …
"With a body weight training program , I can do resistance work whenever and wherever I want. Without the need for equipment, I can work my body in a different way, and in the process provide myself with new challenges. In combination with my kettlebell training – and as a complement to it – my training remains fresh & enjoyable."
Ron R.
"I love the videos and the "down to earth" approach you have for fitness training."
Ron C.
"I've already found out that doing body weight exercises are one of the best all around toning, strengthening and no hassle systems. I can work out at home and at the gym to get really warmed up for my kettlebell circuits then finish off with some more body weight exercises. While I'm just starting out on this, I find when at the gym some folks are amused at first when they are watching me and then when I'm done and totally drenched they ask me what the heck were those exercises? I've been reading these updates for a while and always find new exercises to use."
Gabriel C..
"Thanks, for all the great ideas and workouts….. I use them personally and in my classes…..thanks."
Rachel
Exercise is about functional movement. The ability to complete everyday tasks as easily as possible. Especially as we age. That requires us to have the ability to move our own body weight. What better way to train then using your own body weight. Target the muscles that enable us to move our own body weight, by moving our own body weight, Simple. 
Craig W.
Having used progressively heavy weights that resulted in injuries that required time off to heal, I am a firm believer in the value of body weight exercises. They've helped me heal and recover faster than I expected.
Thomas F.
As a personal trainer I strive to challenge my clients as much as possible. Body weight exercises are the perfect way to train in a functional way and make it fun!
J
This is a no-risk offer. You have a full 60 days to try out the program and see if it works for you. If you're unsatisfied for any reason, you'll get a full refund – no questions asked!
If you still have any reservations about the program, stick with me for just a second and I'll quickly address some frequently asked questions:
1. Everything you're saying so far, Forest, is fine and dandy, but I don't think I can get a real workout without the gym.
With just the few tools that I've talked about – a kettlebell and/ or a set of dumbells – you will have all the equipment you need to lose fat, gain muscle, and get in great physical condition. If you're skeptical, give the workouts a try risk-free! If they don't work for you, return the system within 60 days, no questions asked, for a full refund!
2. I already know how to do Push Ups and Sit Ups and stuff like that. Is that all this program really is?
This is an entire workout system – including twelve weeks of workouts, a meal plan, and more. The idea is that all the information you have to search around for and piece together is here in one place. You can stop wasting your time and devote your time and energy to a proven system that really works.
3. What about my diet? Does this system have a good meal plan to go with it?
Absolutely. A proper diet is extremely important for getting you to your fitness goals, whatever they are. We have a guide that teaches you proper eating principles and how to build a meal plan based around your specific situation and goals.
4. How long will it take before I start seeing results?
If you follow the program to a 'T', including the workouts and meal plan, you'll see significant changes in how you look and feel within the first two weeks. You'll be amazed at how fast you can make progress when you really focus in.
Yes, I Want To Start Today With Fat Burning, Muscle Building Workouts I Can Do Anywhere
P.S. There's no risk at all for you to try the No Gym? No Excuse! system. Give the system a try – if it isn't all you thought it would be and more, return it for a full refund within 60 days, no questions asked.
P.S.S. If you've never missed a workout because of your busy schedule and you're already in peak physical shape, then don't worry – this product isn't for you. But if you want to learn the secrets of burning fat, building muscle, and getting a killer workout using your own bodyweight, kettlebells, and dumbells, order the No Gym? No Excuse! system today!
NOTE: No Gym? No Excuse! is a downloadable e-book. No physical products will be shipped. After you order, you will get INSTANT ACCESS to download the e-book and all the bonus reports onto your computer.